Welcome to flashtowerdefence.com - your home for the best free online flash tower defense games.

Rules and controls: - Click on the map to build a tower or an upgrade. - No building could be based on the caravan's path. - Two twers are couldn't be built to close. - There are different upgrades available on the right panel (for cash). - More detail description of the upgrades could be found in ingame tooltips. - It is possible to lock tower on a target by clicking the tower first and the target then. - If the target is in range of attack it will be attacked, random closest targets would be attacked otherwise. - Some upgrades could be activated for some sorht periods. - Whole additional ammo is limited Hints: 1) The more towers you build, the less money you get from one unit 2) Tumbleweeds, rats, rabbits could bemet on the battlefield. They are passive targets too. 3) It is not necessary to make a superpostion of the towers. Try to spread the towers along the road. 4) Using some additional upgrades, such as improved ammo gives you more cash 5) Sometimes locking the target of the tower manually is very usefull 6) Want to feel the rush? Just try to combine the Berserk and Sniper modes at the same time!
More Tower Defence Games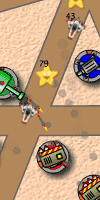 50,069 plays
Onslaught Tower Defense version 2.2 gives you a bunch of strategic interesting maps to defend against waves of enemies. Well balanced game that has (only a few, but) very useful towers.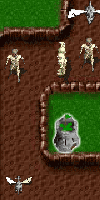 24,884 plays
Medieval tower defence game. The graphic quality is not too good. Pretty difficult game, place your towers around the center and keep the creeps away. Flying and walking enemies will come in each l...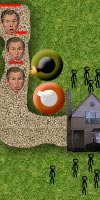 10,479 plays
In this TD you are a peaceful group of Island people who are suddenly under attack by 15 waves of enemies from the other side of the island. The only problem for the enemy is that they have to go t...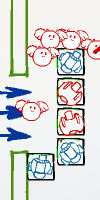 20,039 plays
Extreme critter war, build towers on the white board. The game has a drawn style which looks a bit boring.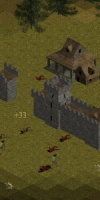 11,337 plays
Build your town and towers freely around the maps in this medieval zombie tower defense game. Choose strategic positions for your walls and towers to build. Use the mouse to make buildings, walls a...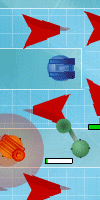 7,467 plays
Seems to be just a copy of Trench Commander with different graphics. Not that special since it's pretty easy. But this is v1.0 so let's hope the difficulty will change in the future.