Welcome to flashtowerdefence.com - your home for the best free online flash tower defense games.

Rules and controls: - Click on the map to build a tower or an upgrade. - No building could be based on the caravan's path. - Two twers are couldn't be built to close. - There are different upgrades available on the right panel (for cash). - More detail description of the upgrades could be found in ingame tooltips. - It is possible to lock tower on a target by clicking the tower first and the target then. - If the target is in range of attack it will be attacked, random closest targets would be attacked otherwise. - Some upgrades could be activated for some sorht periods. - Whole additional ammo is limited Hints: 1) The more towers you build, the less money you get from one unit 2) Tumbleweeds, rats, rabbits could bemet on the battlefield. They are passive targets too. 3) It is not necessary to make a superpostion of the towers. Try to spread the towers along the road. 4) Using some additional upgrades, such as improved ammo gives you more cash 5) Sometimes locking the target of the tower manually is very usefull 6) Want to feel the rush? Just try to combine the Berserk and Sniper modes at the same time!
More Tower Defence Games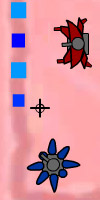 7,488 plays
Basic game with only one tower that can be upgraded with multiple elements: Fire, Water and Air. This gives you nice created towers. The level is very simple, so are those enemies from hell.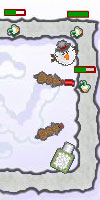 9,411 plays
In this Christmas game you are trying to stop the carolers from reaching your house. And to do this you can use the six Christmas yard ornaments to stop them. No upgrades for your towers... Merry C...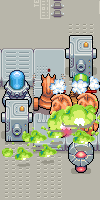 35,965 plays
PC.DEfence is a strategy game with an exciting pixel art graphics combining classical tower defense gameplay with inconvenient story line. Evil viruses are coming out from usb stick to destroy your...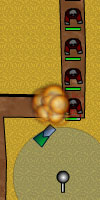 34,437 plays
Zombie Tower Defense 5 features fun strategy and zombie carnage. Sit back, relax and destroy the zombies as they attempt to make their way through the maze. ZTD 5 has tons of new features, maps, zo...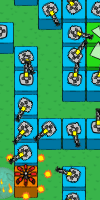 12,465 plays
A humorous tower defense game with the weirdest creeps. Build a maze of towers like the classic Desktop Tower Defense. Instructions: Select a tower from the left bottom, the click anywhere in th...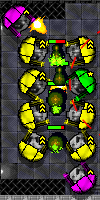 59,413 plays
A beautiful sci-fi tower defense game. 6 missions with all a load of waves. 7 towers that are all possible to upgrade multiple times.