Welcome to flashtowerdefence.com - your home for the best free online flash tower defense games.

Rules and controls: - Click on the map to build a tower or an upgrade. - No building could be based on the caravan's path. - Two twers are couldn't be built to close. - There are different upgrades available on the right panel (for cash). - More detail description of the upgrades could be found in ingame tooltips. - It is possible to lock tower on a target by clicking the tower first and the target then. - If the target is in range of attack it will be attacked, random closest targets would be attacked otherwise. - Some upgrades could be activated for some sorht periods. - Whole additional ammo is limited Hints: 1) The more towers you build, the less money you get from one unit 2) Tumbleweeds, rats, rabbits could bemet on the battlefield. They are passive targets too. 3) It is not necessary to make a superpostion of the towers. Try to spread the towers along the road. 4) Using some additional upgrades, such as improved ammo gives you more cash 5) Sometimes locking the target of the tower manually is very usefull 6) Want to feel the rush? Just try to combine the Berserk and Sniper modes at the same time!
More Tower Defence Games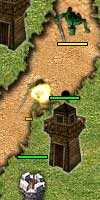 76,444 plays
The good days are over. The creeps are determined to prepare a campaign against the human race. We;re facing extinction if we don't do something about it. That's where you come in...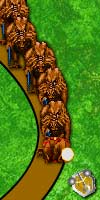 104,723 plays
BitmapTD is a pretty basic looking towerdefence game with sprites with some classic game monsters as bad guys. This game seems to be based on Element TD 2 with a camera that can follow the creeps.
80,684 plays
A highly improved new part of Zombie Tower Defense! Now with a total of 7 towers and a lot more news. Graphics are not that much improved but the strategy aspect is. Also cool: After you've finishe...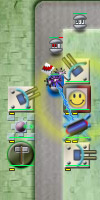 22,999 plays
A highly advanced tower defense game. Lots of cool tower technologies, super weapons, non-linear gameplay, and an epic final boss! Build towers, kill creeps, research technologies and kill creeps f...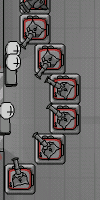 29,361 plays
Tower defense in the Madness universe. A simple and littlebit boring looking game that does however have multiple difficulties up to impossible so the game can be challenging for everyone!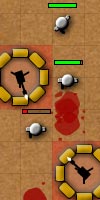 68,122 plays
SNAFU TD is a military themed tower defense game. It features multiple missions with ingame achievements. The different maps are challenging and the game looks good.